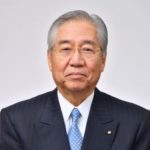 April 28, 2020
Dear members,
I hope all the members are doing well despite the struggles during this time due to the novel coronavirus outbreak. My thoughts are with everyone. In addition, I know there are members who are in the medical field working at the frontline while risking their lives. I thank you very much for your hard work.
Our concerns keep growing while we face the current situation, we do not know when it will converge. Many people are overstressed due to an apparent increase of time they need to spend at home. We keep listening over the news that there are more troubles within the family, children are becoming unstable and more cases of domestic violence are reported.
In some countries, "social distancing" is mandatory, not allowing people to greet closely; like giving hugs. This novel coronavirus outbreak has grown to a troublesome situation where the bonding among people are being destroyed. There are more people in solitude.
Our late Reiyukai senior members taught us that the Spiritual World would not give us challenges that could not be overcome. I would like to invite everyone to reunite our hearts, and considering the current coronavirus situation as an opportunity granted by the Spiritual World.
I am convinced there are many people who want to ease their own pain and suffering. Nevertheless, the teachings of Reiyukai are about "saving others brings you happiness." In other words, your own happiness is unachievable unless the people around you and everyone else are delighted. Thus, I am assuring this is a great opportunity for us, the members, to play an active role.
For that reason, it is important to carry out the practice of reciting the sutra. Let us join our palms while paying our respects to the invisible world in order to obtain tangible results. That is the essence of Reiyukai's teachings. Let us be granted with wisdom and strength from the Spiritual World.
Although it is difficult to meet your members and friends, there are multiple ways to stay connected. Make a phone call. Send them an email. Use social media. Write a letter. Utilize any means to reach out to your members and friends to let them know that you are there for them. Cheer them. Do not let anyone be left behind! Should you have any concerns, please feel free to contact your local Reiyukai office, the person who invited you to join Reiyukai, or your immediate branch director.
Again, what we are going through now can be considered as an opportunity for preparedness. Let us be ready to actively and joyfully share the teaching as soon as the current situation is settled. Until then, let us do our part following public orders while following the Guidelines for Reiyukai Members. Let us ponder what it is that we can do, what is the practice that we can start, and thus, overcome together this social crisis!
Namu Myohorenge Kyo
International President, Reiyukai