Whenever anyone asks me: "What is the Message of Reiyukai?" I answer: "It is a Teaching aimed at changing the characters of people, the quality of families, and the destiny of nations."
In her last years of life, Mrs. Kimi Kotani – who co-founded Reiyukai with Mr. Kakutaro Kubo – insisted that we members of Reiyukai "should contribute to the Peace of the world through the consolidation of virtuous merits." So, I ask myself: "How can we implement these words of Mrs. Kimi Kotani?"
I think that the answer is, precisely, by transforming the character of "individuals," of "families," and of "society."
"Individuals" refers to each one of us – and our personal efforts to reform our characters – by eliminating negative karma inherited from our ancestors and by promulgating positive karma.
This means radically altering one's personal character. In "families," it is not only about transforming one person or another. It is about constructing united families where all the members join hands – thus, creating a collective force which will become a positive influence that permeates society.
Finally, when we think about "society", we envision powerful families uniting and exerting an extensive impact that results in "contributing to the Peace of the world by the consolidation of virtuous merits" – in the words of Mrs. Kotani. We must begin by assessing the condition of the world we live in today! We must admit our blame for its sad state! Obviously, we are facing multiple conflicts and tasks.
The teachings of Reiyukai are to be implemented through actions and not by sitting idly by merely immersed in one's thoughts. Let us ask ourselves – what can we do to transform the hearts of people who have created the problems and conflicts that we are facing now?
Once again, we come back to the origins of Reiyukai – respecting the spirit of the founders, Mr. Kubo and Mrs. Kotani, who founded an organization dedicated to involving people in improving society – and whose principles are etched deeply into our spirits and hearts.
Let us join hands among ourselves and with other organizations – wholeheartedly renewing our efforts to create better persons, better families, and a better country!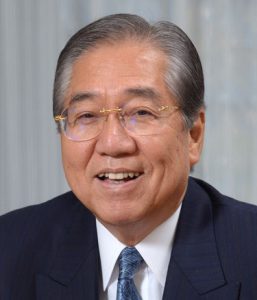 Profile of Mr. Masaharu Sueyoshi
1949 : Born in Osaka Prefecture
1977 : 9th Chairperson of Reiyukai Youth Group Society
1980 : Branch Leader
1981 : Chief, Office of the "Inner Self Development Movement"
1999 : Executive Director of Reiyukai
2006 : Chief Executive Director and Representative Officer of Reiyukai
2011 : Vice President of Reiyukai
2013 : 5th President of Reiyukai (Since April 8)