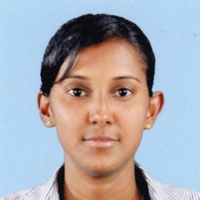 My name is Muthukumara and I am from Sri Lanka. I work in a bank and live with my parents.
When I was eighteen, I used to live with my grandparents and younger brother while my parents were gone to Japan for work.
My parents had a hard time living in Japan, trying to survive the cold winter season while also not knowing the language or the customs. I was always praying for their safety because I was very worried they would hurt themselves after putting in too much effort. It is until two years ago that my parents decided to come back to the city of Colombo. It has been seven years from that point, from when I was eighteen, for me to able to live with my parents once again.
While they were in Japan, they joined Reiyukai. In the letters that I have occasionally received from them once in a while, they were talking about the teachings of Reiyukai. I really did not know what was all that about, but I knew that it was a good organization since my parents were involved so actively. So I decided to join as well in 2009.
While listening to details from my parents after their return, I have realized both of my parents – particularly my father – changed significantly. I see my father showing a lot of care not only to his family but to others even more than he did in the past. He is much more patient while he is listening to others. On top of that, he was not a kind of person that would practice a teaching, but I was fully surprised seeing him earnestly recite the sutra every day. I was truly happy to see that in him, which also motivated me to recite the sutra and begin to invite my friends to join to the cause of Reiyukai.
There were two events that encouraged me even more to be involved with the activities of Reiyukai. The first one was attending the Leadership Seminar that was held on March 10th of last year in the city of Kandy. The second one was visiting Japan for a week, on March 23rd to be part of the Reiyukai practice trip. These two events definitely became a milestone that changed my life.
At the Leadership Seminar in Kandy, I listened to activity reports from other locations within Sri Lanka as well as to a Reiyukai experience narrated by a branch leader from Japan who said, ¡Èthe results will definitely be granted to you, if you can take the action of inviting others to join to the cause while also truly caring about them.¡É Hearing this gave me a strong enthusiasm.
In Japan, I exchanged opinions with Japanese members with a smile. I was touched by their words, ¡Èlet us contribute to the world peace by inviting many more people to join Reiyukai, despite undergoing a tough life after the big earthquake,¡É and thereafter I also made a pledge to fulfill that goal.
After coming to Sri Lanka, I immediately started to visit the houses of my members and shared with them everything I experienced an
d felt during the workshop and my trip to Japan. Altogether, we started to invite more people to join, listen to their problems, and help them find the solution through practice of the teaching.
Recently, many people started telling me that I have changed. Come to think of it, I think I used to be more short-tempered, and tried not to be involved as much in other people¡Çs affairs.
I have to admit that I used to think more about myself. I was already a handful doing my own things. I would think only about myself and let others mind to their own business. The truth is I think there are so many young people who think this way in Sri Lanka, although many people do practice Buddhism.
After I started to invite others to Reiyukai, I realized that I care about others more and treat people with higher respect. As a result, my personal relationship, including family and friends, has improved and now I have more confidence about myself.
There is always some kind of relationship trouble at my workplace. Whenever there is one, I try to solve it as soon as possible with care and a smile, thinking deeply about them.
Thanks to the teachings of Reiyukai and the daily sutra recitation, I have the patience to tackle any kind of problems calmly.
Currently, my fianc«± is also practicing and inviting others to join. I will continue to strive hard to pass on the teaching to more young people in Sri Lanka and thus be a contributor for the sake of our society, the nation, and to world peace.