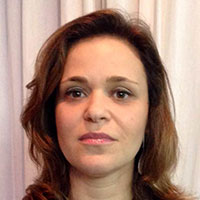 "Thanks to my fellow members, I became aware of my ungratefulness toward everything."
My parents are Jewish of the second-generation immigrants. Many of their relatives were the victims of Holocaust and died in a concentration camp.
Ever since I was small, my parents did not care for the needs and wants of each other. Both of them were argumentative and was never to be considered as a compatible pair . I was rather a spoiled child; yet I had no appreciation at all for them.
After graduating from the university, I got married at the age of 29. I gave birth to a baby boy; however my marriage life did not last long. In a short while my husband and I were divorced. I personally made my efforts to create a happy family, but the differences in opinions and values between us were growing deeply and the feeling of uneasiness was an unavoidable fact in our lives. Considering about my son's happiness, I made up my mind to end my marriage.
It certainly doesn't mean that my decision solved everything. My son was allergic by nature, so there were the limitations of eatable foods for him. He has gone in and out of the hospitals here and there but all were in vain. As a mother it was unbearable to watch him suffer.
At that time I was studying a linguistic education at a postgraduate school but i had to withdraw from there. I worked as a private English teacher from time to time; but when it came to financial matters, I was totally dependent on my parents. Nothing I tried worked out well. I had completely lost my strength to live.
"Why are the members of Reiyukai so positive in every way?" One of my relatives couldn't stand ignoring me in such situations, so he introduced the teachings of Reiyukai to me. However as I was a skeptical person, I did not believe in anything related to a faith. The teachings of Reiyukai were not exceptional, either.
Rumor also had it that my michibiki-parents were in a serious trouble due to the failure in their business. I could not be attracted to the teachings which were recommended by people like that. Nevertheless, they have been e-mailing me for over four months and when I met them in person, I found out that it was a half-baked rumor.
It was true that they did fail in business; even so both of them were very enthusiastic and full of energy to live their life. "How come they can be so positive about everything?" I became interested in the teachings of Reiyukai and began participating in tsudoi.
Everyone I met at tsudoi was all cheerful and energetic. I started carrying out the teachings of Reiyukai in hope of improving my daily life. Since that day I have never missed my daily sutra recitation. I was a little bit reluctant to do michibiki, but I slowly challenged it, too.
The very first person who became my member was my friend. Actually I was too shy to tell her about the teachings. One day she turned curious eyes on sokaimyo; so I told her about Reiyukai with a nervous feeling in my heart . To my big surprise, she immediately said, "I want to do it! Let me join you!" But this experience made me believe that there would be people who would want the teachings of Reiyukai, and they are right beside me. Just like my michibiki-parents have done for me, I also actively worked on michibiki together with my members afterward.
Through doing michibiki and interacting with my members, I finally realized that I had a lack of appreciation for everything. I used to reject all the things. But I have learned from my members who accept the matters gratefully:
"Others are a good example for me to follow. It's not so easy to notice things about me on my own. But michibiki teaches me a true figure of myself by judging the way of my members' behaviors."
My son's allergies were perfectly cured. From now on, I'll work very hard on everything as well as on michibiki and foster as many qualified members as possible.